Blinds, Curtains, and Drapery are the Key to Conservatory Interior Design
It's summer in the UK, and it's been a great one so far. Days and days of sunshine to enjoy. It's perfect weather for sitting in your conservatory and reading. But conservatories aren't just for summer, they have their place in winter too as you sit in them feeling warm and cosy as the rain lashes against the windows.
So how can you make your conservatory an even nicer place to be, both in the summer and the winter? Well, we believe that the key to this is the blinds, curtains, or drapes you choose to adorn your conservatory windows. Read on to see a choice of our favourite curtains, blinds and drapery along with a bit about why we like them so much.
Blinds
Blinds are a good option for conservatories because they're easily fitted and tend to go well with the rest of the conservatory aesthetic. You can get some great conservatory roof blinds which really evoke hot summer days and Mediterranean climates. Blinds are also great because they can be folded or rolled away tightly, maximising the amount of light let into your conservatory when they're not closed.
Below are a few of our favourites sticking with this theme. They're modern, sophisticated, and great for creating your perfect summery space to relax.

Curtains
Going for curtains in your conservatory is a bolder move. Not only is it more difficult to actually find the correct fittings for them, it's also harder to choose curtains that'll go with your conservatory. Installing curtains will give you a cosier, homelier feel than blinds, so it can definitely be worth the effort if you get the choice right. It's a good idea to try and choose curtains that fold away tightly, so you don't end up losing too much of your windows to them when they're open.
Look at our choices below to get some inspiration for your own selection. We particularly love those floor to ceiling curtains on the right.
Curtains like these are brought to life with good flooring, from carpet, tile, hardwood or vinyl, so enhance your curtain interior design by investing in new flooring. Some local suppliers in the area that we are well acquainted with and would highly recommend are QC Flooring, some excellent carpet fitters in Milton Keynes, who also offer a number of other flooring options from Karndean and other vinyl flooring, to engineered wood and hardwood flooring, and Elstow Ceramics who supply a fabulous range of floor tiles in Bedford and Milton Keynes.
Drapes
This is probably the boldest option you can go for in your conservatory. It's for if you want to really make a statement. Drapes can add a real sense of distinction and class to a conservatory, and really make them feel like a place for special occasions. They're great for creating an impressive and dignified atmosphere and garden parties, as well as adding that extra something to a dinner party (if you use your conservatory as a dining room).
Below is a selection of what we think are the most eye-catching drapes out there. Hopefully, they'll give you a bit of inspiration when it comes to choosing your own.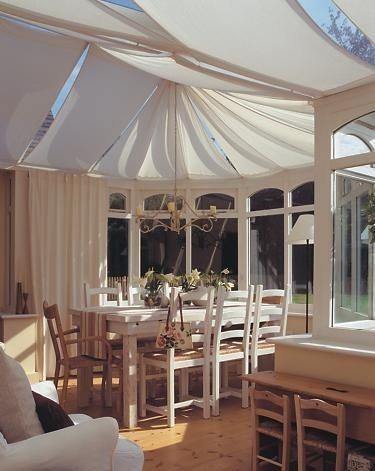 Hopefully, this selection of curtains, blinds, and drapes has given you some inspiration to go out and accessorise your own conservatory. Whether you want to go for a sophisticated look, a cosier look, or a bold one, adorning your conservatory windows with something interesting really can help add an extra something. Let us know on our Twitter or Facebook if you did grab some valuable insight from this post – we'd love to hear your thoughts!