One of the benefits of having shutters in a home is the brightness it brings to the home especially in the downstairs and kitchen areas when open. Shutters, whether metal or wooden, are normally used for several reasons which include protection from a stormy weather, light and, also can protect one's privacy from the outside world. Shutters, in essence, are necessary but many still find it very hard to maintain and use it.
Remember, shutters can be used in both interior and exterior of a building and it is very easy to maintain and care for this window shutters so far as one get the tips on how to do it.
One thing is very clear when cleaning shutters, DO NOT USE SOAP AND WATER ON WOOD SHUTTERS TO AVOID WARPING.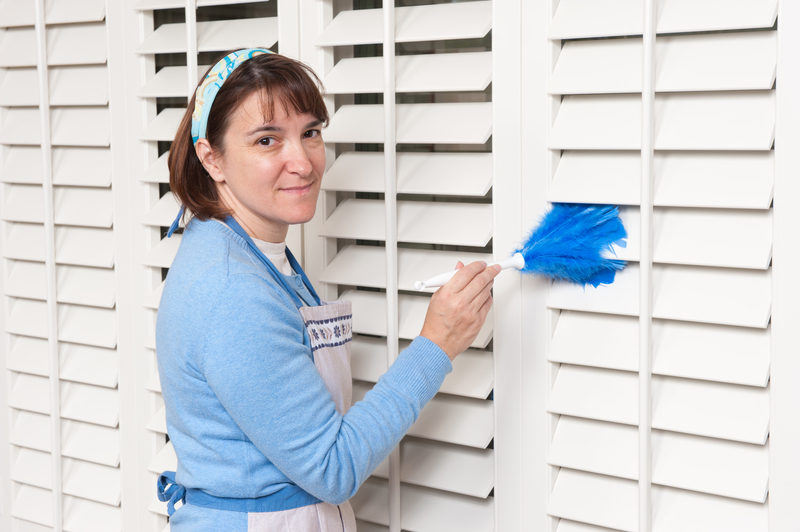 According to an expert contributor Mr Jim Jones of Mr. Maid, a Pittsburgh, Pennysylvania cleaning service, he said;
Cleaning shutters regularly with feather or microfiber duster to ensure maximum cleanliness.
For those in need of the last minute and fast method, slip a sock into each of your hands to dust a shutter quickly when expecting a visitor.
Rub a fabric dryer sheet onto both sides of the slats to help in cutting down the amount of dust that lingers on your shutter.
Use a toothbrush to remove dust from hard and high places your hands cannot reach.
Use a paintbrush to remove specks of dirt from extremely dirty shutters. in this case, dip the paintbrush in a hot soapy water or a clean water and clean. Note that you have to clean the brush often to avoid transferring dirt from one shutter to the other.
In a shutter that has been left unattended for a while, place a paper under the shutter and clean, this is to avoid a double work thereby catching the dirt before it stains the floor.
A dust remover can be used with a dry towel to remove dirt, just close the shutters, use your towel and rub from side to side for an easy and simple cleaning.
For metal blinds that are fragile and easy to bend, wrap a sock around a ruler to clean thin, narrow blinds.
With the above tips, you cannot go wrong on keeping and tidying up your shutters. Shutters requires care which can be easily attained once some of these methods are applied. Cleaning your shutters is vital for a fresh breathe and look for your home. We hope you found some valuable information on this blog.