How to Measure Your Window
Consider Bespoke Blinds
If you have unusual window dimensions or would like a unique appearance for your home, made to measure blinds are the best option out there. Most people feel that ready-to-hang blinds are the best option because there is no high risk of sending the wrong measurements, and the loss of money that comes with that. 
But the truth is that it's considerably fast and easy to measure your windows. All you need is a metal tape measure and a little patience. This gives you the option of beautiful bespoke blinds that suit your requirements. The good thing is that you always have a huge variety of blinds to choose from including:
Roman blinds 

Roller blinds

Vertical blinds 

Venetian blinds
These window dressings offer a versatile look to your home and also a practical addition to your living space.
Firstly decide where you want the blind
Before measuring your window, you want to make a decision on whether you want the blinds to fit outside or inside the recess. The recess should be free of fixtures or anything else that can tamper with the extension of the blind.
An inside mount is a good choice when you want a cleaner look. An outside mount, on the other hand, gives the illusion of a longer and wider window. This makes it a good choice when you want to hide the look of a window you're not happy with. 
When using an outside mount (not using recess space), you should add at least 3 inches to the measurement of the width, to allow an overlap of 1½" on the right and left side. You should also add a minimum of 3 inches to the height measurement. Doing so allows for optimum light control as well as enhanced privacy.
Measuring a window with a recess (inside mount)
One thing to keep in mind whenever you take measurements is that you should use a metal tape measure for accuracy.
Width
To measure the width, get the exact measurement of the top, middle, and bottom. You should use the smallest of the three measurements as the width guide. It's usually recommended that you avoid making any reductions, as the factory making the blinds will make adjust the measurements for you.
Length
Just like when measuring the width, take the measurements of the window's length at 3 points (the left, middle, and right). Use the longest of the three measurements as the correct measurement. For vertical blinds, you can reduce the length by a centimetre if you want the fabric to have a perfect fit even with a sill in place.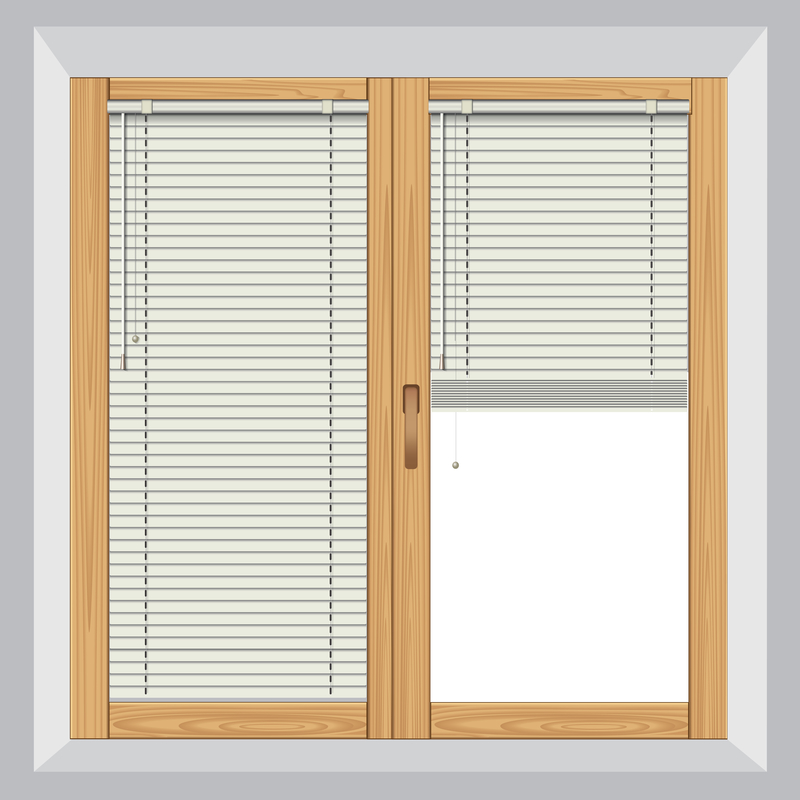 Measuring a window without a recess (outside mount)
Width
Measure across the width of the window, where the blind should be placed. It's recommended that you add at least 3 inches (1½ per side) to accommodate for overlap. As mentioned above, this allows for improved privacy and better light control. For roller blinds, you can add a further 2" to the width to accommodate the operating mechanism.
Length
Measure the length of the window from the top of the fitting to where you want the blind to end.
Additional measuring tips
Once you take a measurement, be sure to verify it to ensure that the final measurement is as accurate as it can be. This will save you from disappointments and loss of cash.

If the size of your windows differs from that of standard blind measurements, you should purchase readymade blinds and trim them to your window's fit. In such a case, you have to get a blind whose length and width are longer than required, then trim it down to size at home. Remember to read the product instructions carefully before trimming the blind.

Roller blinds are best fitted outside of the recess, for easier use of the control mechanism.

The overall width for roman, recess, Venetian, and roller blinds should be reduced by 1cm to allow for clearance space. Vertical blind length should also be reduced by a centimetre to allow for smooth extension across the window.
Final thought,
If you want to fit blinds on windows that don't have a standard shape or size, made-to-measure blinds are the best option. They add a unique look to your home, while also allowing you to enjoy more privacy and better light control. If you want amazing bespoke blinds, the best advice is to contact a company that specialises in providing amazing blinds.
If you are looking to decorate your home with new blinds, Concorde Blinds are on hand to provide a large range of options from wooden blinds, roman blinds, curtains and much more. Visit our contact page or call today on 01234 841535.