Interior Trends 2020 | What We Have Noticed so Far
We are a little past the halfway mark of 2020, and we have seen many interesting home interior trends already. There are likely plenty more noteworthy home interior designs on their way, but for this article, let's focus on the popular home decor ideas that we have seen so far in 2020.
Wooden Shutters
Wooden shutters have been popular this year; not only do the natural wooden tones help create a calming, relaxed and down-to-earth style, but they also work well with the 'biophilic design' that many have been looking to achieve. A biophilic design means creating a home that is 'more connected with nature' and opens up a variety of styles and design choices.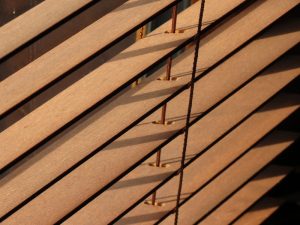 Blinds
Blinds remain a top purchase throughout UK households. In particular, 2020 has seen roller blinds become a popular choice. Roller blinds allow a lot of functionality and style, but they are also a solid choice for those trying to save money, as they generally offer excellent value.
Curtains 
As with blinds, designers have been warming towards the biophilic trend with curtains too. People have been seeking curtains with stand out, often quite bold, naturalistic prints – with jungle-themed greens being a particularly popular choice. This style trend is taken one step further by adding matching throws and cushions into the mix creating a simple yet highly effective one-colour or pattern room set-up.
Blackout-lined curtains have likely been a popular pick this year, due to the long bouts of sunny weather we have already experienced so far. That, of course, can be very nice, but it can also mean that it gets a bit too hot and stuffy in the room, or the light shining through is a little too distracting. This is where blackout curtains have been able to come to the rescue, blocking out that light and the resulting heat – perfect for when you're trying to relax in the living room.
Bright Colours
In terms of colour choice, bright colours are most definitely in, with apricot-orange adorning many walls, either in paint or wallpaper form. Yellows add a brighter colour to the mix, but can be also toned down a little, for example, golden-yellow has been a popular selection, which looks lovely when it's matched with curtains and other furnishings.
A nice, bright, soft-pink remains popular, so expect to find many rooms going for an all-pink look, which helps to keep a warm light in the room. Having talked about brighter colours, on the other side of the coin, black is back! Yes, lots of people are opting for a classic black, choosing black curtains or blinds, black sofas (in velvet fabrics especially), black rugs and other black accessories. This style is proving to be a popular tonal choice for the bedroom.
We recommend seeking the help of a professional interior designer to integrate these home interior trends into your household in the most effective way possible, whilst making the best of the space that you have and keeping it stylish and unique. These experts will be able to ensure that your household gets the best out of your chosen interior designs. 
So, if you are looking to up the style and functionality of your home, our team at Concorde Blinds are specialists in blinds, curtains, shutters and much more. Get in touch today on 01234 841535 or go to our contact page for more details.