An awning, sometimes known as an overhang, is a secondary covering that is attached to the exterior wall of a building. It would normally be made up of a canvas woven of acrylic, cotton, polyester yarn, or vinyl laminated to the polyester fabric which has been stretched tightly over a light structure of either aluminium, iron, steel, wood, or transparent material. Transparent materials are used to cover solar thermal panels during the summer but it is a requirement that they allow as much light as possible during the winter. 
This is a structure that is configured as a truss, which is a framework that consists of rafters, posts, and struts that support a roof, bridge, or other structure. If not configured as a truss, it could also be configured as a space frame. This is a rigid, lightweight, truss-like structure that has been constructed from interlocking struts in a geometric pattern. Finally, it could also be a planar frame, which is a two-dimensional structure constructed with straight elements connected by a rigid and/or hinged connection.
An awning is often constructed of aluminium and with an understructure of aluminium sheeting. Aluminium awnings are often chosen where a fabric awning would not be a practical option due to the threat of snow and wind.
An awning is often purchased as an add on to a home and receives most use during the summer months.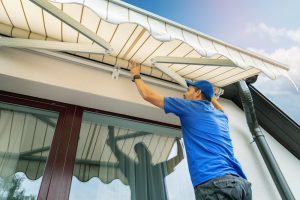 Bringing an awning into the equation can add lots of shade into your garden, allowing for more living space for you and your family and friends to relax. An awning also provides the option to divide areas up for added privacy.
If you attach an awning to your home, this will help prevent cold gusts of wind blowing in every time the door is opened. It can also help keep leaves and other debris from being blown inside.
The addition of an awning will add an extra thermal layer and as a result, less heat will be lost whenever the door is opened.
Above are some compelling reasons why the attachment of an awning offers several key benefits. If you would like to find out more about how we can help you and your awning needs, please get in touch on 01234 841535 or head over to our contact page for more information.