Why Should I Invest In Bespoke Blinds For My Bathroom?
When you look to decide on which blinds you want to specify for your bathroom the primary concern will always be privacy – I'm sure you don't want the neighbours to see you getting out of the shower! As well as offering privacy, bathroom blinds should be hygienic and able to tolerate heat and humidity and be aesthetically pleasing. This is why you should invest in bespoke blinds for your bathroom that are designed specifically for you.
What To Look For When Buying Bespoke Blinds For Your Bathroom
Because the nature of the bathroom is that it's a room that tends to get wet you can't go using any old material for your bathroom blind. The sort of fabrics you'd find curtains made out of are a really bad idea for instance. This is because they'll absorb moisture from the air from a hot shower, or they'll hold onto liquids such as water or toothpaste and they'll need to be cleaned every week, which isn't ideal; you'll either end up with mould or spend every weekend scrubbing your blinds, and nobody fancies that.
You might even see the colours run out of your blinds over time if they're made from the wrong fabric. Instead, you need to be looking at blinds that are specifically designed to be moisture resistant as these will be guaranteed to be able to be used in your bathroom as they'll have been tested for their ability to resist moisture, retain their colour and dry quickly, and if there are any issues you'll be able to sort them with the supplier. Remember too that if you're unsure it's always worth asking if you've selected the right option.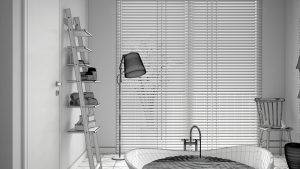 There are quite a few different options for blinds for your bathroom. Venetian blinds, blackout blinds, and roller blinds are all able to be created in water-resistant fabrics that can be used in your bathroom. Metal can also be a viable material, and there are aluminium Venetian blinds available that will be perfect for a bathroom environment as aluminium doesn't rust when it comes into contact with water.
Faux wood is another viable choice as unlike real wood it isn't affected by moisture. Finally, the best guaranteed waterproof option is PVC fabric which is made of 75% PVC and 25% fibreglass. This type of blind definitely won't absorb water, it lets very little light through, the makeup of the material means it retains heat very well and it's even fire retardant. Whichever of the options you choose for your bathroom, the blinds will come in a huge range of colours or patterns perfect for any environment.
Finally, you may be wondering "why choose bespoke bathroom blinds?". The answer is simple, bespoke blinds will be perfectly tailored to your bathroom. They'll look unobtrusive when rolled up and will fit the shape of your window perfectly when they're in use. They'll be designed to trick the eye into thinking the window is bigger than it appears and a well-designed blind could even increase the value of your home should you ever choose to sell.
Now you're armed with all the facts and what to look for, it's time to choose your perfect bathroom blind! If you would like to find out more about how we can help you, please feel free to get in touch on 01234 841535 or head over to our contact page for more details.